A Visit to the Churchyard
A Natural Habitat

This forgotten corner is an urban oasis for birds, butterflies, badgers and fortunate visitors.

Become A Volunteer

Volunteers meet 10 am every second Saturday of the month to preserve this unsung gem.
Experience Georgian Splendour & Decay
Within the walled confines of St Mary's Churchyard, you'll be introduced to many of Bath's Georgian notables - its architects, soldiers, grand ladies, faithful servants, parish paupers and unfortunate children.
Their headstone inscriptions provide brief glimpses into their lives lived and of those left behind to mourn their loss.
Its centrepiece is a ruined mortuary chapel which stands sentinel while slowly being reclaimed by buddleia, brambles and clinging ivy.
The churchyard is a tranquil and atmospheric place where one can contemplate both mortality and the continuum of life. Its stillness is disturbed only by birdsong and the fluttering wings of moths caught in sunlight.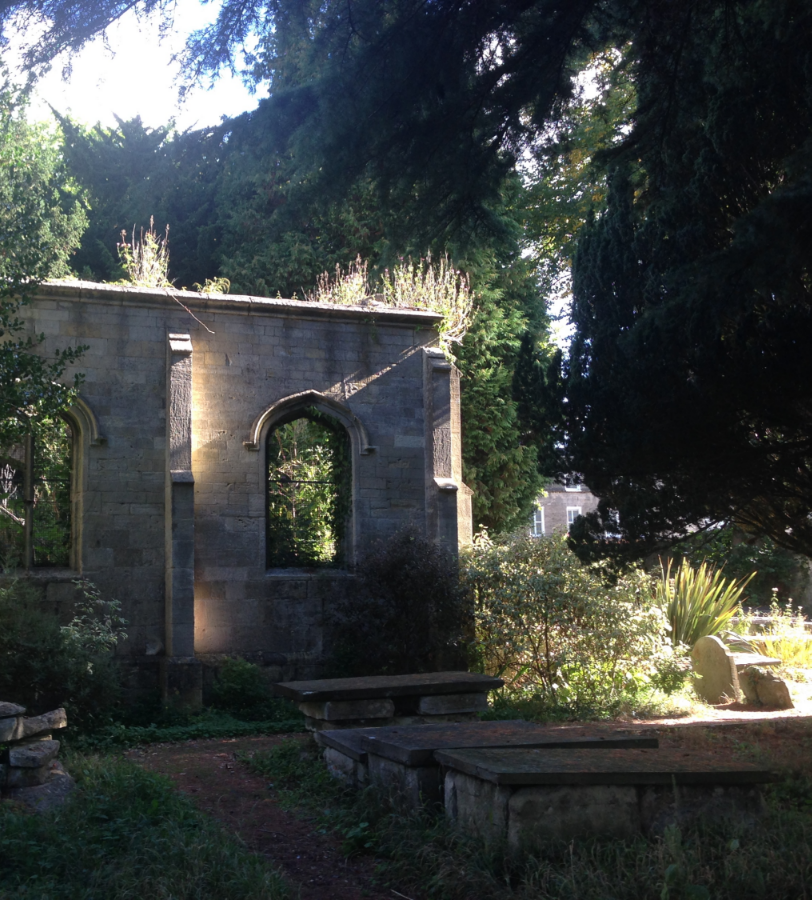 A Shared Vision to Preserve the Past
Opened in 1808, St Mary's Churchyard was closed to burials by the 1860s. Gradually falling into disrepair, it was padlocked and denied to public access by 1980.
In 2000, a local historical society, recognising the churchyard's significance as the burial place for many of Bath's celebrated figures, petitioned the council to reopen it.
Spearheaded by Alastair Cowan and Alan Bell, the "Friends Group" was founded in 2003 to work in partnership with the council towards the goal of conserving and eventually reopening the churchyard.
Assisted by a grant from the Heritage Lottery Fund, memorials were repaired and a cemetery trail, with 21 graves marked of particular interest, was created. The churchyard was reopened 23, September 2006.
The Friends Group continues to meet 10am on the second Saturday of every month in its ongoing commitment to preserve this small corner of Bath history.
TripAdvisor Reviews
A little bit out of the way from all the hustle and bustle but what a truly magical place! Very atmospheric and well worth the visit! About a 10 minute walk from the centre of bath and if you're looking for somewhere a little bit different this is the place!

Kelly C

Lovely ruined church & churchyard

Located as you enter Bath, this lovely ruined church and churchyard is wonderful to explore. Ancient headstones and tombs are beautiful to photograph and it is very peaceful, yet very overgrown and unkept. Reminds me of a secret garden

KenmareLisa